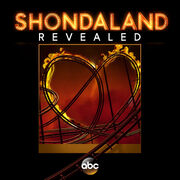 Shondaland: Revealed is podcast hosted by executive producer Betsy Beers that is released on iTunes bi-weekly during the television season. Each podcast, Betsy invites a cast or (sometimes) crew member from one of the Shondaland shows to come and have a chat. The first Shondaland: Revealed podcast was released on September 26, 2014.
There are earlier podcasts dating back to 2012, but these are Scandal: Revealed podcasts, which only talk about Scandal. However, ever since there was the TGIT line-up on Thursday night, the podcast was transformed into a Shondaland podcast, thus also including Grey's Anatomy and How To Get Away With Murder. In 2016, The Catch was also added to that line-up.
This list only includes guests from The Catch cast and crew.
Summaries
Edit
The following summaries summarize the shared info about the cast/crew members and what they talked about.
Mireille Enos
Edit
Sonya Walger
Edit
Peggy Schnitzer
Edit
Allan Heinberg
Edit
Mireille Enos
Edit
Sonya Walger & Jay Hayden
Edit
Notes and Trivia
Edit
As of the 2016-2017 television season, the podcast became a bi-weekly podcast rather than weekly.
Mireille Enos and Sonya Walger are the only cast members to have appeared twice.
Mireille Enos Sonya Walger, and Jay Hayden are the only cast members to have appeared so far.
Jay Hayden and Sonya Walger appeared on a podcast together, marking the first time that two actors appeared together.
Ad blocker interference detected!
Wikia is a free-to-use site that makes money from advertising. We have a modified experience for viewers using ad blockers

Wikia is not accessible if you've made further modifications. Remove the custom ad blocker rule(s) and the page will load as expected.