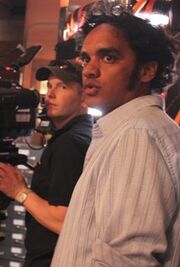 Sharat Raju is a director on The Catch.
Born Positive (????)
Once Upon a Time (2017)
Scandal (2016-2017)
The Catch (2017)
NCIS: New Orleans (2017)
How to Get Away with Murder (2016)
Criminal Minds (2016)
Mistresses (2016)
Grimm (2016)
Finding Carter (2015)
Law & Order: Special Victims Unit (2014-2015)
The Worst of the Worst: Portrait of a Supermax Prison (documentary short) (2012)
Oak Creek: In Memoriam (documentary short) (2012)
Alienation (documentary short) (2011)
Futurestates (2011)
Divided We Fail: Americans in the Aftermath (documentary) (2006)
American Made (short) (2003)
Independent Lens (documentary) (2003)
Directed Episodes
Edit
Season 2
External Links
Edit
Ad blocker interference detected!
Wikia is a free-to-use site that makes money from advertising. We have a modified experience for viewers using ad blockers

Wikia is not accessible if you've made further modifications. Remove the custom ad blocker rule(s) and the page will load as expected.