Season 1 is the first season of ABC's The Catch. The season began on March 24, 2016 and concluded on May 19, 2016. It consists of 10 episodes and was broadcast as part of ABC's TGIT lineup.
Meet Alice Vaughan: Strong, smart and tough-as-nails, she specializes in foiling world-class criminals with her elite team at Anderson/Vaughan Investigations, so she's devastated after losing her heart - and her life's savings - to dashing, international conman Benjamin Jones - a.k.a. "Christopher." Desperate to extract some serious payback, Ali embarks on a secret quest to nab her ex-fiancé. However, the spark that ignited between these volatile lovers refuses to die, and soon, both Ali and Ben find themselves caught between trying to keep one step ahead of his murderous associates and her crime-fighting colleagues, while trying in vain to keep their hands off each other!
Each episode follows both Vaughan and Jones, with Alice solving cases her colleagues for clients at her private investigations business, and Benjamin pulling cons on marks with Reggie and Margot.
Main Cast
Edit
Recurring Guest Starts
Edit
Recurring Co-Stars
Edit
Notes and Trivia
Edit
DVD Release
Edit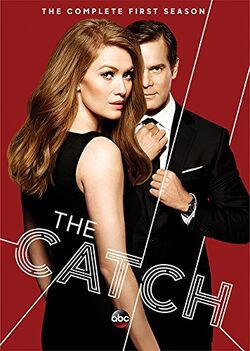 The "The Catch: The Complete First Season" boxset will be released on September 27, 2016 in region 1.
Set Details
Edit
The boxset contains the 10 episodes of the season. The DVD box includes 2 discs. Other set details are to be released.
Special Features
Edit
As is always the case with DVDs of Shondaland series, The Catch: The Complete First Season features a couple of bones features:
Cast Promotional Photos
Edit