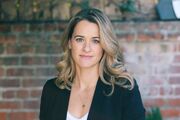 Jennifer Schuur is one of the creators of The Catch. She left the show after the pilot was shot due to creative differences, after which Allan Heinberg took over as showrunner.
Look Away (2016)
The Catch (2016)
Quarry (2016)
Hostages (2013)
Hannibal (2013)
Hellcats (2010-2011)
Army Wives (2009-2010)
Crash (2009)
Valentine (2008)
Big Shots (2008)
Big Love (2007)
Hannibal (2013-2014)
Hostages (2013-2014)
Hellcats (2010-2011)
Crash (2009)
Written Episodes
Edit
Season 1
External Links
Edit
Ad blocker interference detected!
Wikia is a free-to-use site that makes money from advertising. We have a modified experience for viewers using ad blockers

Wikia is not accessible if you've made further modifications. Remove the custom ad blocker rule(s) and the page will load as expected.